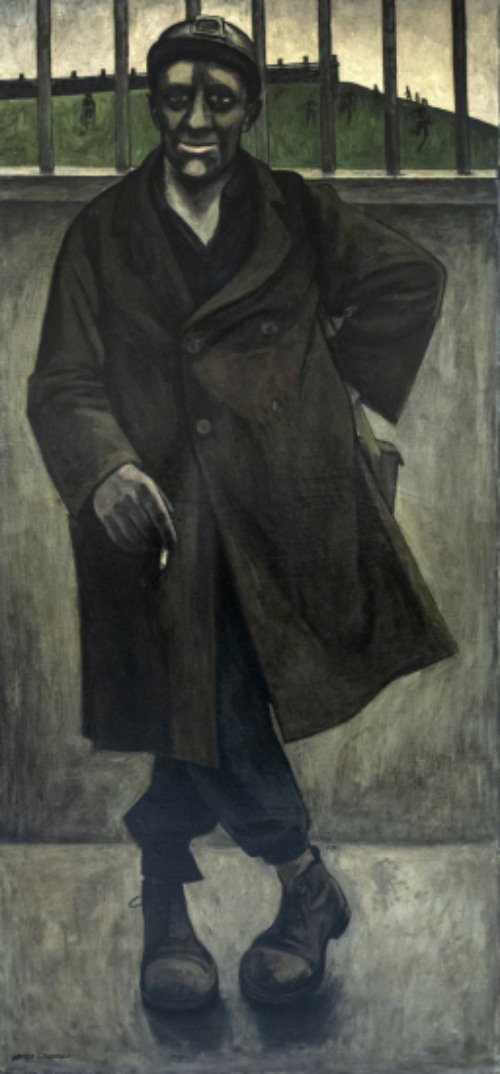 Artist: George Chapman
Lived: 1908 – 1993
Catalogue no: 2977
Image Height/Width:
Donated by Duffy Ayers
This larger than life oil painting is typical of the many studies which George Chapman did of the South Wales mining communities. It shows a miner, probably after rising to the surface after spending all day underground mining for coal. He wears large black boots and coat, a blackened face with a cigarette, and is painted in the usual dark colours, loved by Chapman. It also demonstrates a depressed and damp atmosphere, which Chapman experienced in South Wales and which he always said he loved. His driving force in much of his work was primarily visual, and was not to try and make any political or socialist statements in his work, despite seeing much poverty and hardship in the Rhondda.The painting was donated to the Fry Art Gallery by another artist and close friend, Duffy Ayers, and is one of the most recently acquired and restored works in the collection.
George Chapman lived in Great Bardfield from 1948 to 1960 and struggled with finding inspirational subjects to paint. He had been a successful graphic designer, working for Shell and London Transport, in the 1930s and turned to study painting just before the war.
In 1953, he discovered the Rhondda Valley, by accident on a return journey to Essex, and at last he had found his subject.  Over the next few years he made many visits to the area, where he drew and painted the working communities and harsh environment in a style and subject matter that was very different to the other artists living and working in Great Bardfield. He worked in the open air using drawing and etching, with the paintings completed back in his studio in Essex.  He eventually moved to Aberaeron, in West Wales with his wife Kate, who was also an artist, and died there in 1993.