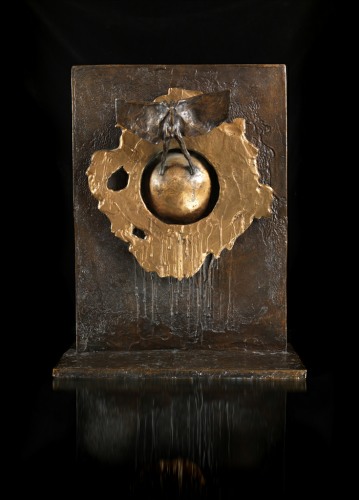 Artist: Michael Ayrton
Lived: 1921 – 1975
Medium: Bronze
Date:1970
Catalogue number: 285
Image Height/Width:
Purchase assisted by the Henry Moore Foundation)
Michael Ayrton was a painter and sculptor who was also well known as a theatre designer, writer, art critic and broadcaster. He was not considered to be closely connected to the group of north-west Essex artists, associated with the area, but he did live and work for 25 years at Bradfields, a beautiful sixteenth century house in Toppesfield, which is now part of the Toppesfield Vineyard estate. He is buried at Hadstock, near Saffron Walden, and there is a representation of a maze on the reverse side of his gravestone.
He travelled widely throughout his life and following his first visit to Greece in 1958 he wrote and created many works associated with the myths of the Minotaur and Daedalus, the legendary inventor and maze builder, including bronze sculpture and the pseudo-autobiographical novel The Maze Maker. This obsession with mazes, mirrors, flight and myths continued until his death.
This sculpture, completed in 1970, is one of only two sculptures in the North West Essex Collection. One side of the bronze displays the sun, bearing a tiny stylised figure of Icarus, the legendary boy whose wings, attached with wax, failed him when he flew too close to its heat. In the centre of the other side is a maze, which is an exact replica of the labyrinth in Arkville,USA.